---
Dr. Cayen is pleased to announce that he is currently performing Robotic-Assisted Total Knee Replacements.  Humber has acquired the ZimmerBiomet ROSA robot, the first ROSA robot in Canada.  This advanced piece of technology uses x-rays to create a 3-dimensional map of a patient's leg, and uses that data to help the surgeon better "balance" a knee replacement.  Traditionally, surgeons use a 2-dimensional x-ray and "feel" the balance in the knee during the procedure.  The ROSA robot however uses data collected before and during surgery to help the surgeon dial-in a balanced knee.  At the time of writing, all patients receiving Total Knee Replacements with Dr. Cayen will receive the benefit of this technology.  No need to ask!
Currently at Humber River Hospital, Drs. Rodriguez, Heller and Cayen are performing knee replacements using the ROSA robot.
Dr. Cayen would like to thank ZimmerBiomet, Dr. Rodriguez and the Humber Administration for championing the effort to acquire this exceptional piece of advanced technology.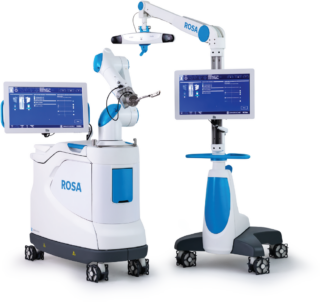 ---